Rear Wheel Price
$1,014.00 USD
HADRON² All-Road Ultimate Wheel
The new HADRON² All-Road Ultimate is a purpose-built wheel designed for all possible road-cycling race scenarios, which are seen in the spring classic races: poor quality roads, cobblestones and off-road sections which require a robust wheel with a wider rim, compatible with wide tyres. The 45mm deep rims are fully aerodynamically optimised for minimum drag and the best handling in the wind. The wheels are built with the latest top-level DT Swiss 180 DICUT hub SINC ceramic bearings and the new Aerolite II spokes for maximum racing performance on all terrain.
FRONT WHEEL: ADD CONTINENTAL GP5000 TYRES & TUBES
REAR WHEEL: ADD CONTINENTAL GP5000 TYRES & TUBES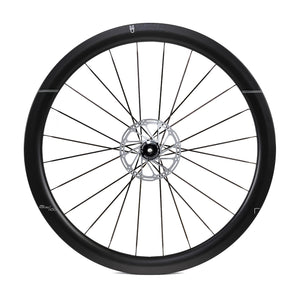 HADRON² All-Road Ultimate Front Wheel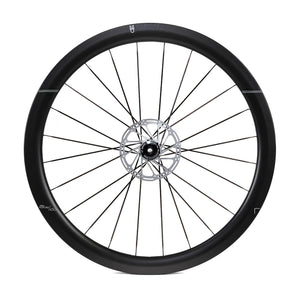 HADRON² Ultimate All-Road Rear Wheel
Total price for all items including VAT.
Total price for all items excluding VAT.
All products are shipped from our EU warehouse. Delivery to
Germany
is outside of the EU so
0% VAT
is applicable. The local authorities may charge you VAT & import duties upon delivery.
Prices exclude shipping costs which are calculated at checkout.
| Weight / Rim | Front Wheel | Rear Wheel | Wheel Set | Aero Profile Height | Max. Rim Width | Brake Track Width |
| --- | --- | --- | --- | --- | --- | --- |
| HADRON² All-Road Ultimate Wheel | 663g | 823g | 1486g | 45mm | 28.5mm | N/Amm |
Description
The answer to all-road cycling performance racing. No matter what surface the road may offer, this wheelset takes on anything from super smooth Swiss roads through to the cobblestones of the spring classics, thanks to a wide inner rim width with hook, for 25 mm to 65 mm tyre widths. 45 mm deep aero-optimised rims combined with top quality DT Swiss 180 DICUT hubs with SINC ceramic bearings and the new Aerolite II spoke developed in collaboration with DT Swiss deliver maximum performance on all surfaces for your road cycling races.
Compatibility
Shimano, SRAM 10&11 speed freehub as standard. 10,11,12 & 13 speed groupset compatibility is provided with freehub options for Shimano, SRAM and Campagnolo.
Hub
DT Swiss 180 DICUT to Swiss Side specification. Rear hub internals use 240s ratchet system in 180 DICUT hub shell, except for DISC rear wheel which uses the Ratchet EXP system. Disc Brake Interface: Disc Center Lock; Axle System as delivered: 12 x 100mm thru axle front; 12 x 142mm thru axle rear; Disc brake wheel hubs are also supplied with interchangeable end caps for 5mm x 100mm disc brake QR front axle, and 5mm x 135mm disc brake QR rear axle. For DISC Rear Wheel: DT Swiss 180 DICUT, 36T Ratchet EXP. Disc Brake Interface: Disc Center Lock; 12/142mm Axle System.
Spokes
DT Swiss Aerolite II
Bearings
SINC ceramic bearings
Made of extremely tough and wear- and corrosion-resistant ceramic material
Reduces rolling resistance to absolute minimum
Guarantees greater durability than conventional ball bearings
Shipping
Shipping costs are in addition to the pricing shown. Cost effective shipping is calculated based on your region at the checkout.
All products ship from our EU warehouse located in Poland and/or Germany.
For EU customers, all pricing shown includes local VAT. Courier delivery time is typically 3-5 days.
For international customers, including Switzerland and non-EU countries, all pricing shown is without VAT. Import duties and taxes (VAT) may be charged separately by your country's authorities upon receiving your shipment. International delivery times vary depending on the shipping option chosen. Courier deliver is typically 3-15 days worldwide.
The Swiss Side HADRON² DISC Rear Wheel for Rim Brake is not for sale or use in the USA and/or Canada. Any orders will be cancelled.
Package Includes
Tubeless ready rim tape 27 mm (pre-installed), Valve extension 30 mm, Tubeless valve alu black 36-48 mm, Valve guard. Disc brake wheels DO NOT come with the "lock nut" / disc brake rotor lock ring– this is specific to the bike.
Tyre Size
All tyres from 25mm to 65mm can be used on this rim. We recommend using a 28mm to 34mm tyre. Please check User Manual for max. tyre pressure.
Rider Weight / Safety Notice
The maximum total system weight (bike + rider) for the HADRON² Ultimate All-Road disc brake wheelset is 120kg.
`