THE TEAM
We are thought leaders in aerodynamic innovations.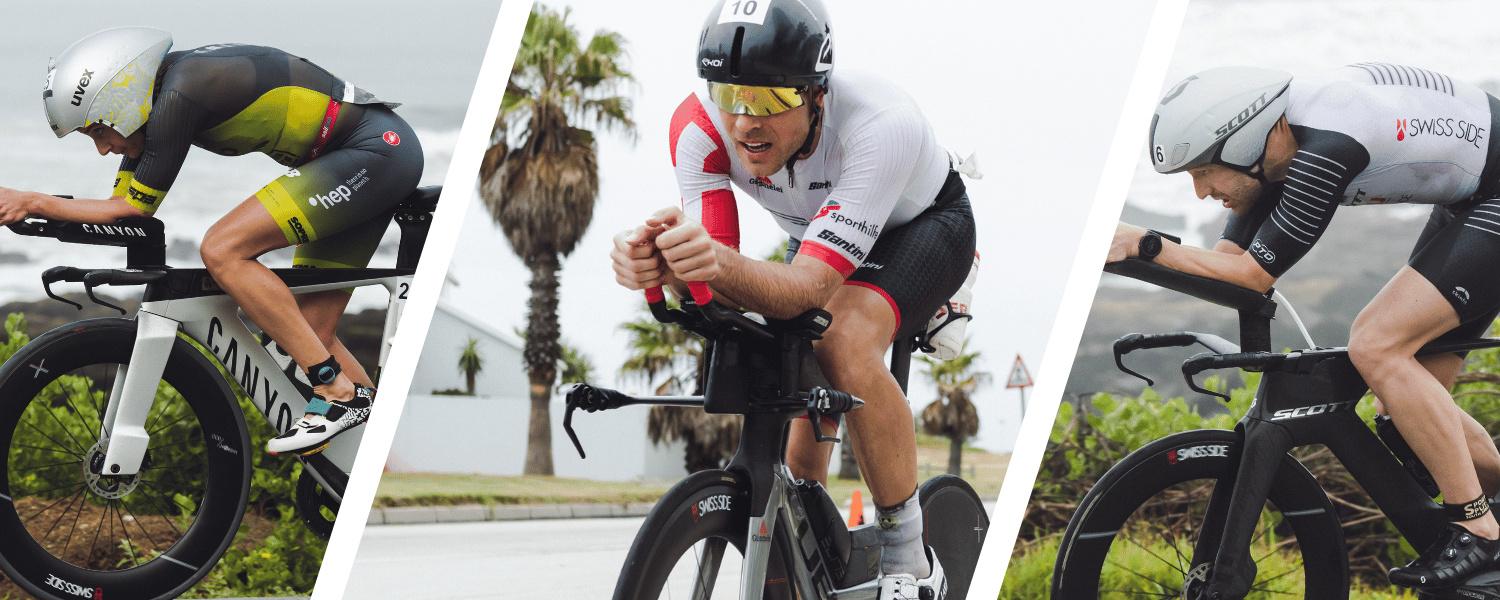 Swiss Side's Pro Athlete Team
Our passion lies in the details. We study what makes us go faster and build products and programs to accomplish this. Our athletes are the prove to that.
Swiss Side is proud to partner and sponsor pro athletes on top level of professional sports. All Swiss Side athletes are equipped well with our aerodynamic Swiss Side wheels. Furthermore, Swiss Side provides them with aerodynamic testing in the wind tunnel and optimisation of their bike set-up and position. Our products are all developed and approved with pro athletes. That makes us confident in delivering unparalleled excellence and convincing to provide athletes and customers with high-end products.
Patrick Lange
Patrick Lange is not only the 2017 and 2018 Ironman World Champion, but he also became the first athlete to break the magic 8-hour mark in this race (07h 52min 39sec). A record that Swiss Side and partners had been working on with Patrick in Project 101. The aerodynamic optimization work with Patrick is ongoing – and very successful: In 2021 (Tulsa, USA) and 2022 (Israel) he won several Ironman races, as well as Challenge Roth in 2021 and got second in 2023. The success continues as Patrick became Vize-World-Champion in 2023.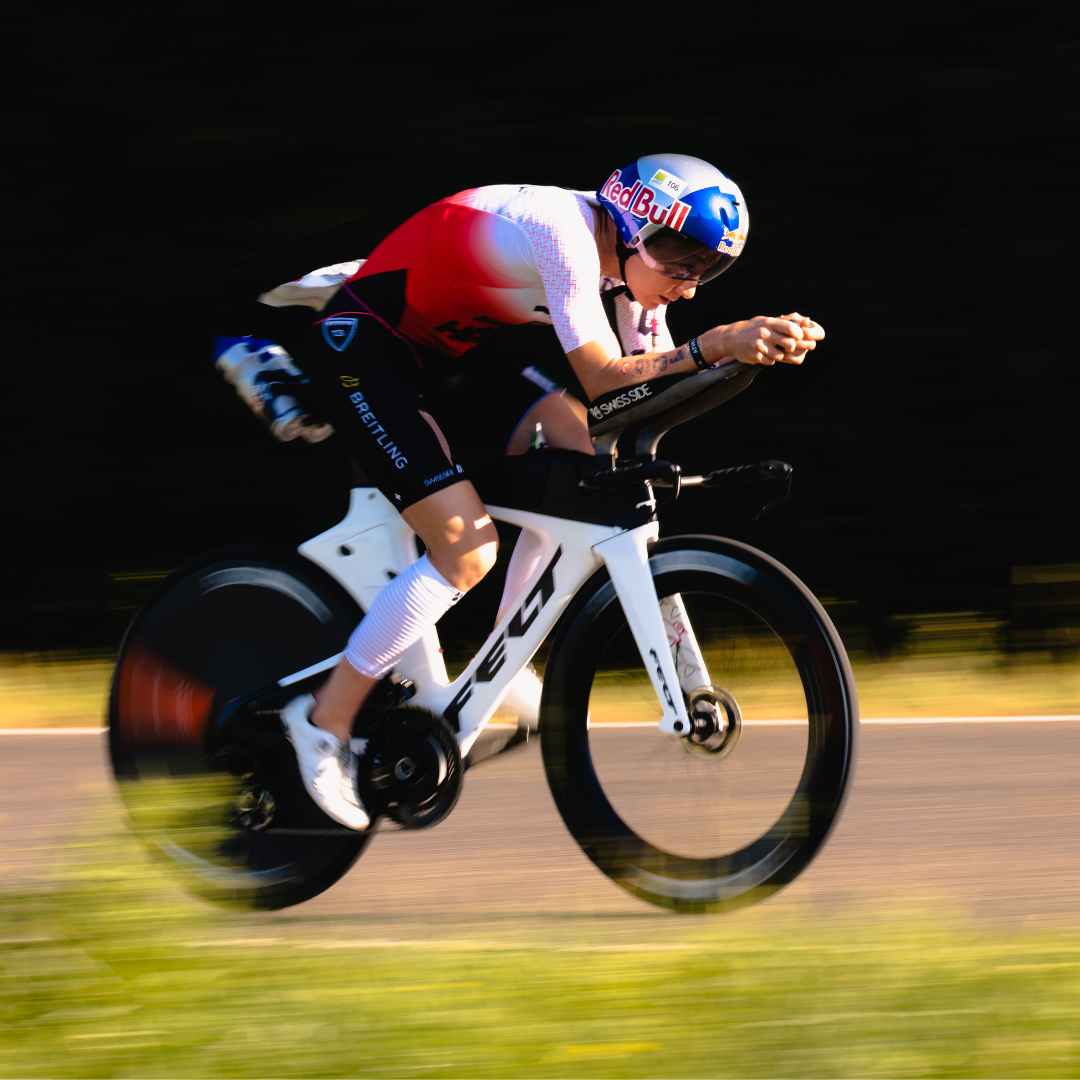 Daniela Ryf (Aerodynamics by Swiss Side)
The 35-year-old athlete from Solothurn, Switzerland, has already won five Ironman World Champion titles (2015, 2016, 2017, 2018, 2022) as well as five Ironman 70.3. World Championships (2014, 2015, 2017, 2018, and 2019). Swiss Side and Daniela did aerodynamic tests in the wind tunnel together to adjust on the triathlon bike regarding her seating position, which helmet is most aerodynamic, as well as bottle positions. Last but not least, Daniela won Challenge Roth 2023 with an aerodynamic and custom-made cockpit from Swiss Side`s aero experts.
Laura Philipp
The German town of Heidelberg is home to the 35-year-old athlete, but race-wise, the whole world is her playground, and the number of Ironman 70.3 wins confirms that: 17 times overall! Also, she won 4 Ironman world cups in her career. Furthermore, she is the current Ironman World record holder with a time of just 8:20 hours. Not to forget that in 2021 Laura was the Ironman European Champion and 3 years before (2018) she won Ironman Barcelona with a new course record. In 2023 Laura already won 2 Ironmans, we are excited to see what comes next.
Andreas Dreitz
Challenge Roth is a triathlon monument and winning it is something special. Even more so if you are a local hero, just as the 34-year-old Franconian Pro Triathlete from Lichtenfels, Germany. Andreas fulfilled his dream of winning the legendary Challenge Roth back in 2019. Furthermore, he has more than ten 70.3 triathlon victories under his belt, he took the victory at Ironman 70.3 Wiesbaden 2016 which made him European Champion. In 2017, he won his long-distance debut at Ironman Italy. As a strong cyclist, Andi benefits
from Swiss Side's aerodynamic expertise and provides important input for our work.
Jan Van Berkel
The 36-year-old from Bülach, Switzerland, has left his mark on his home race by winning Ironman Switzerland three times in a row. In the 2021 season, he was runner-up at the Ironman race in Tulsa (USA). In 2022 he could decide on the Inferno Triathlon in Mürren, Swiss, for himself and stood on the podium at the Ironmen Mexico as 2nd. To ensure that his success story continues, and Jan achieves his professional goals Swiss Side supports him with the number one aerodynamic wheels and professional aero optimization. We are happy that we supported Jan on his last dance in Switzerland Ironman. Congratulations to his win and his whole career.
Lisa Norden
Before giving longer distances a try in 2021, the 38-year-old from Kristianstad, Sweden was a very successful Olympic distance triathlete and cyclist. She won, among others, 2 ITU World Triathlon Championship titles, and an Olympic medal. Then she nailed her long-distance debut at Ironman Lake Placid and won the Challenge Salou a few months later. In 2022 Lisa finished at Ironman St. George and Ironman Hawaii, on top of that she became 2nd at the Ironman Mexico at the end of season 2022. Swiss Side is proud to be partnering with the Swedish triathlon icon and supporting her with the number one aerodynamic wheels.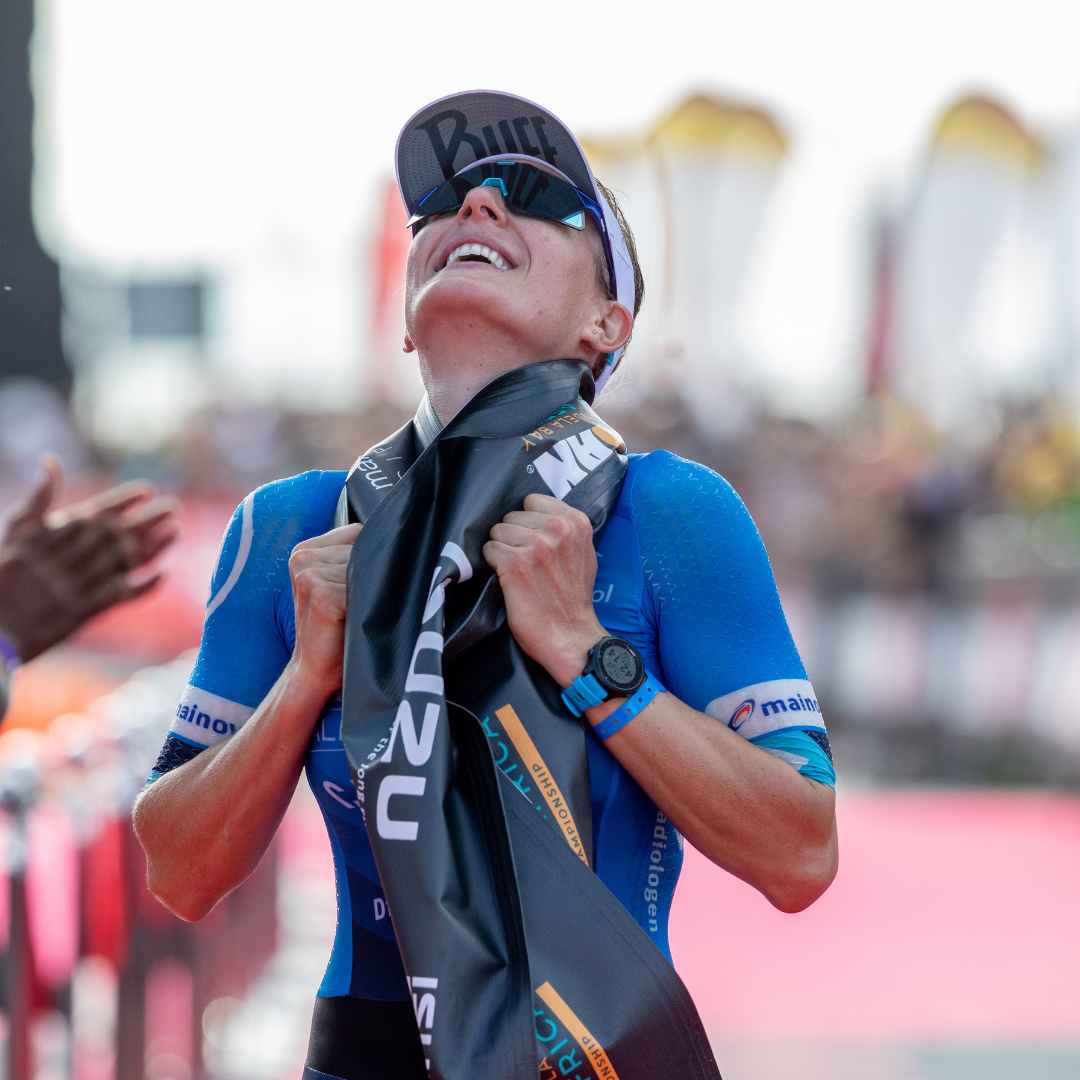 Daniela Bleymehl
Motherhood and top performance go together quite well as the 34-year-old athlete from Darmstadt, Germany, has proved quite impressive in the past years. Not only at Challenge Roth, Ironman Italy, Ironman 70.3 Zell am See – and this was just the 2018/1 season. In 2022 she won the Ironman Frankfurt and the Ironman Africa Championship. Swiss Side is proud to work with such a powerful female triathlon athlete. Her win in Zell am See 2023 is just one of the remarkable performance from Daniela.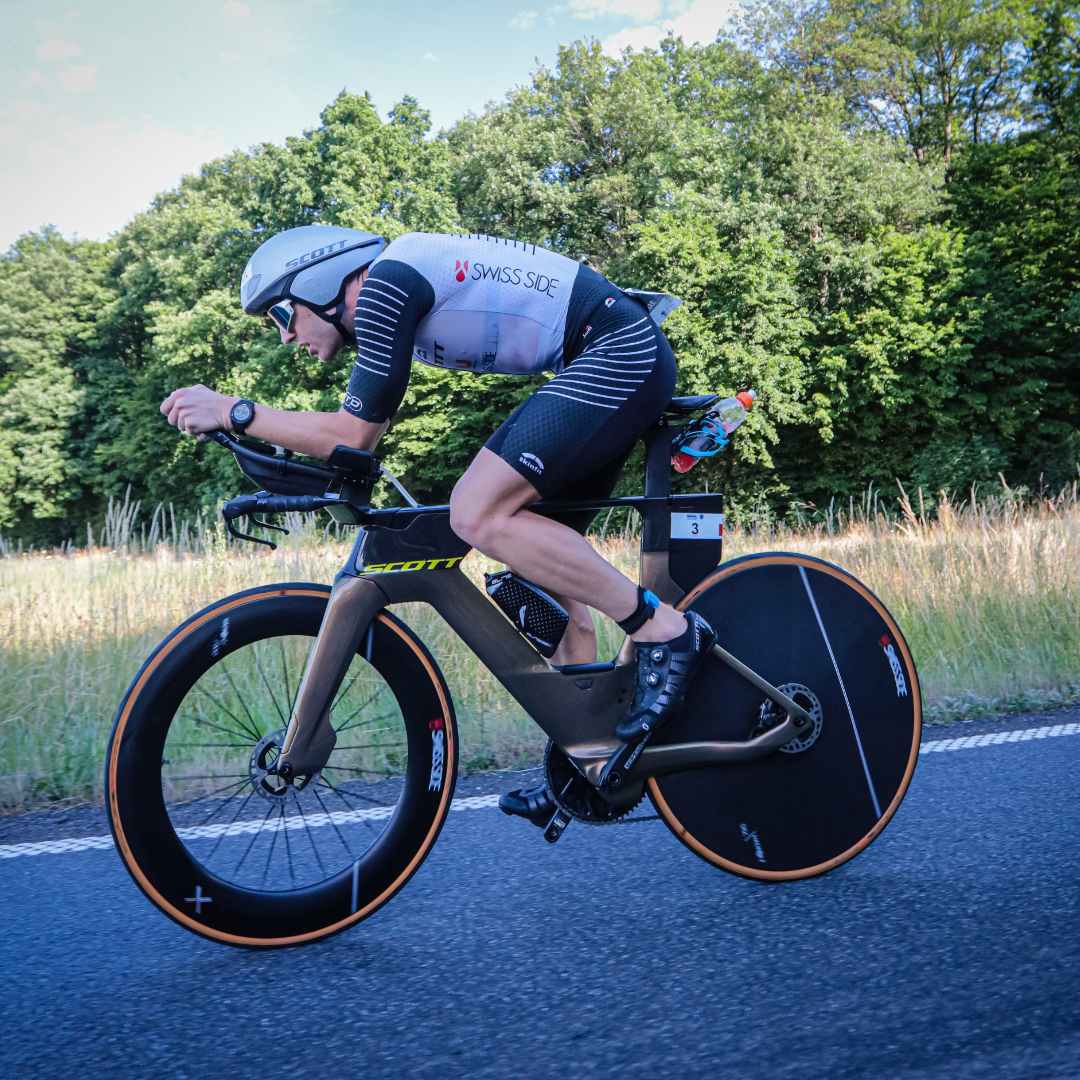 Rasmus Svenningsson
2021 has been the 30-year-old athlete's most successful year so far. The pro triathlete from Stockholm, Sweden, won Ironman Lake Placid, finished second at Ironman Austria, and third in Dubai and South Africa. In 2022 Swiss Side and Rasmus did a lot of testing in the wind tunnel to improve his aerodynamic position on the triathlon bike. The outcome was information that he and his team could work with to make him just as fast as possible. Swiss Side is very excited to have Rasmus on the team as an ambassador of the brand.
Denis Chevrot
The 34-year-old from St. Étienne, France, debuted in Ironman racing back in 2011, after graduating in civil engineering. He collected his first win in 2014 and showed that he has not lost his force in all the years after by winning several Ironman 70.3. In 2022 he finished first at the Ironman in Germany and in 2021 as well in Austria. A special year was 2022 as he achieved his personal best time at the Ironman distance – after optimizing his aerodynamics on the triathlon bike together with Swiss Side. 2023 started well and Denis decided Ironman Hamburg for him and became European Champion.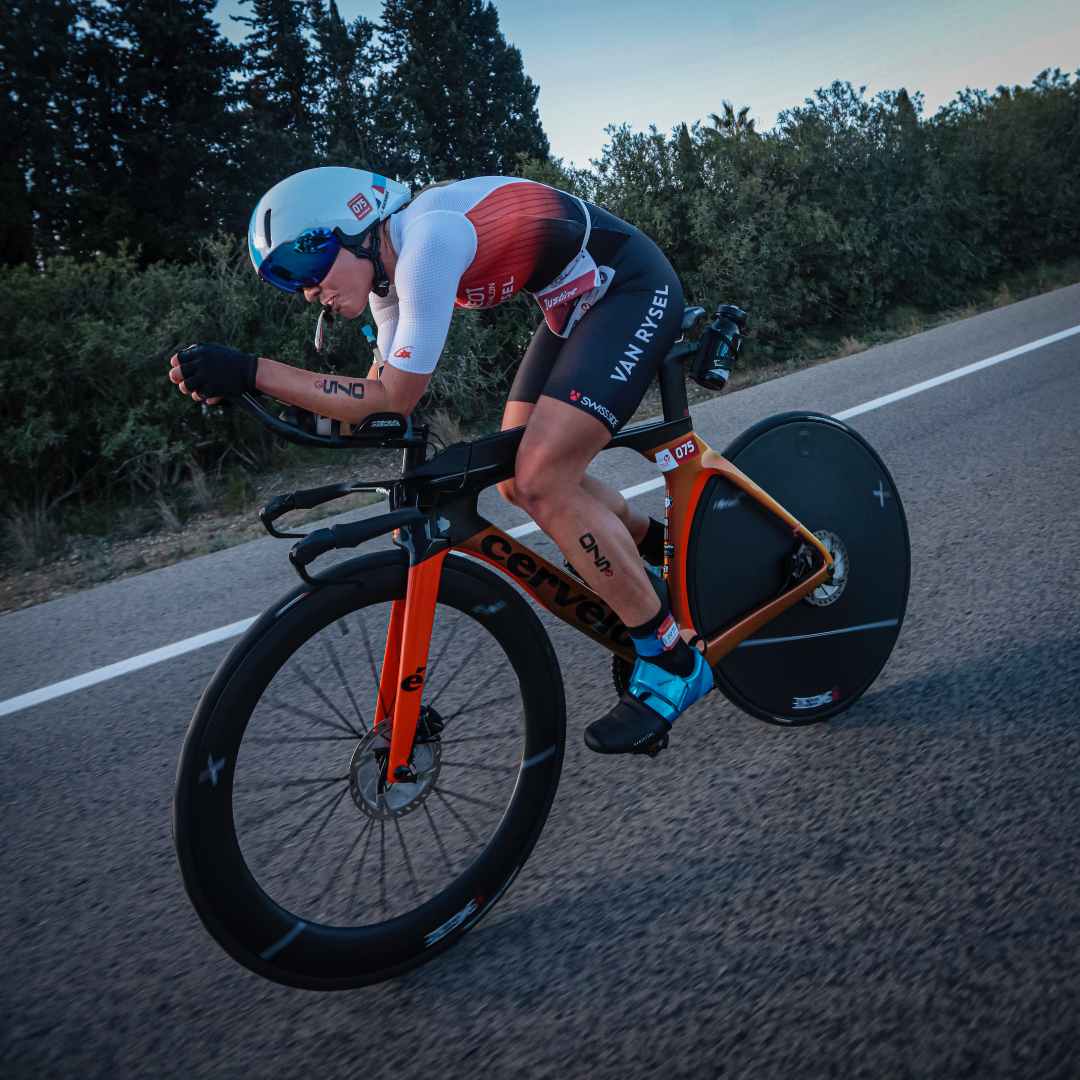 Justine Matthieux
Just one year after turning pro, the 26-year-old athlete from Pouilley Les Vignes, France, won her first race at Ironman 70.3 Les Sables D'Olonne in 2020. Runner-up at Ironman Mallorca 2021 and third place at Ironman Lanzarote 2021 were further steps on her path to pro triathlon success. Lots of triathlon wins in 2022 made Swiss Side a proud partner to look forward to working with her.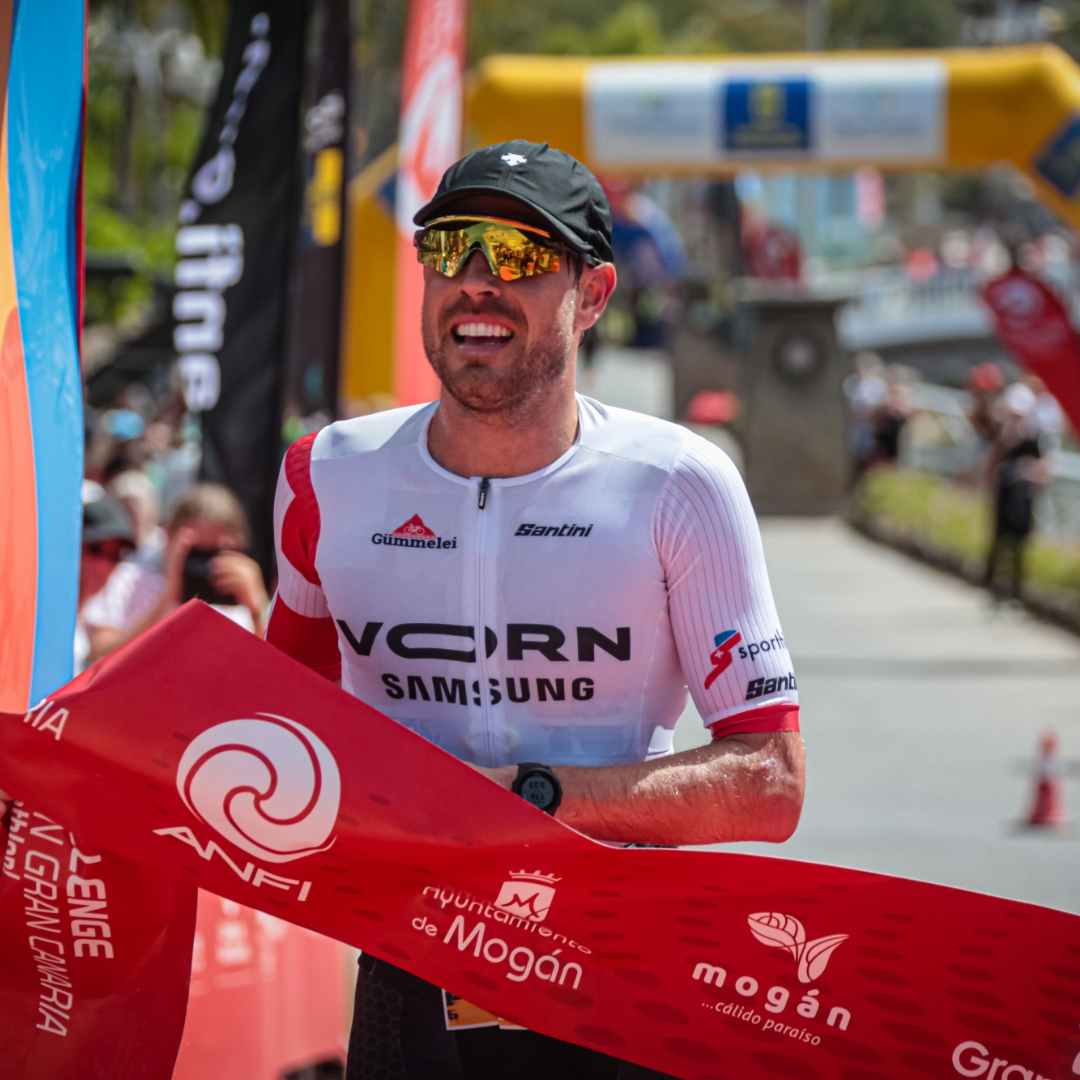 Andrea Salvisberg
The 34-year-old Swiss triathlete from Rüegsau is a member of the Swiss national team, focusing mainly on Olympic distance racing. He's got five Swiss Championship titles under his belt, won the silver medal at the European Championships 2018 in the Mixed Relay category, and competed and finished successfully at different Ironman 70.3 under top ten results in 2021/2022.
Swiss inSide
The Swiss Side Headquarters
In our small team, with a diverse range consisting of over 9 nationalities from Switzerland to the USA to Australia, we are a genuinely international crew.

The Swiss Side team has also been handpicked to consist of like-minded, innovative, driven people from diverse industries all drawn together by a passion for cycling and our love for getting out into nature.